Cutlets are one of those snacks that every Indian has fond memories of. From carrying them in our tiffin boxes to school to enjoying them with our evening cup of chai at home, this yummy snack has been a constant part of our lives. As much as we love gorging on them, making them at home can be slightly tricky. Oftentimes, they do not turn out the way they're supposed to. Did your cutlets turn out soggy, or did they fall apart as soon as you put them in the oil? These are some common problems that we face while making this snack at home. And this can be quite disappointing, right? If you're wondering how to fix these problems or avoid them in the first place, we're here to help you out. Here are some easy tips that'll help you make cutlets at home like a pro: 
Also Read: Chicken Cutlet, Mutton Cutlet And 5 Other Cutlet Recipes You Can Make At Home
Cooking Tips: Here Are 5 Tips To Make Perfect Cutlets At Home:
1. Mash the ingredients well
To ensure that your cutlets turn out perfectly, you must mash the ingredients well. If you're making non-vegetarian cutlets, make sure the meat is minced nicely. The same thing applies to making vegetarian cutlets. Chop all the vegetables, such as carrots, onions, and potatoes. If you hurry up during this process, you'll feel large pieces in your mouth as you bite into them.
2. Add cornstarch
After mashing all the ingredients, it's time to combine them. This is the most crucial part of making cutlets, as this is what ensures they stay in place while cooking. While doing so, you can add 1 teaspoon of cornflour to the mixture and then mix. Cornstarch acts like a binding agent and helps the cutlets stay in shape. This way, they won't break apart once you put them in the oil.
3. Double coat with breadcrumbs
Breadcrumbs are what give cutlets their distinct texture and crunch. After combing everything and shaping them into cutlets, they are dipped in maida, eggs, and breadcrumbs before frying. But if you want to give them an extra crunch, repeat the process once it's done. This will add an extra layer of crunch to the cutlets and make them taste super delicious.
Also Read: Cheese Cutlet, Rice Cutlet And More: 7 Vegetarian Cutlet Recipes That Spells Indulgence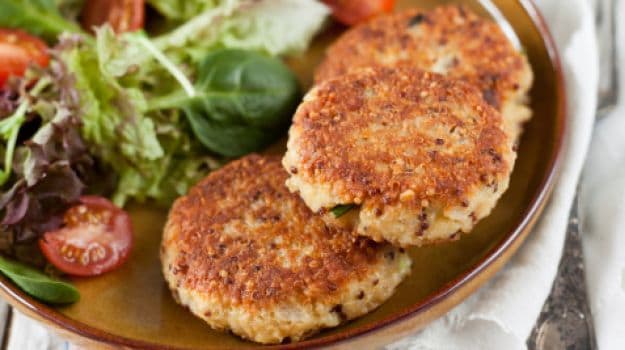 4. Cook on the right flame
Most of us are in such a hurry to gorge on cutlets that we fry them on a high flame, thinking they'll cook faster. But this way, they'll cook quite unevenly or may even end up burning. Similarly, cooking them on a low flame won't give you the best results either, as they'll remain undercooked. For perfectly crispy cutlets, cook them on a medium flame.
5. Allow them to rest after cooking
Once your cutlets are cooked, transfer them to a plate lined with tissue paper to drain the excess oil. Now, usually, most of us just start eating the cutlets straight away once they're on the plate. But you must allow them some time to rest before you begin eating. This helps in setting the structure of the cutlets further and allows the flavours to get absorbed fully. So, have some patience and then snack on them without any worries.
Now that you know about these tips, keep them in mind the next time you plan to make cutlets at home. Let us know how they worked for you in the comments below.