The 2023 MLB Draft began with a round of boos directed at commissioner Rob Manfred on a sunny evening at T-Mobile Park in Seattle.
Manfred appeared visibly annoyed at the chorus as he attempted to welcome the assembled fans in front of him through the Bronx cheers.
The boos continued as the commissioner took to the podium to announce each selection. Only the first pick of the draft, announced by former Seattle Mariners superstar Ken Griffey Jr., was cheered.
Rob Manfred appeared visibly shaken at the response of the crowd at the MLB Draft. The commissioner has been a divisive force at the lead of America's pastime, with many connected to and rooting for the game disapproving of a number of Manfred's tweaks to the game.
Many fans at the MLB Draft disapprove of Rob Manfred for his handling of the likely move of the Oakland Athletics to Las Vegas.
In mid-June, Manfred taunted Oakland residents after their "reverse boycott" in which 20,000-plus fans turned out for a game. The Athletics are averaging just over 10,000 fans per game this season as Oaklanders are showing their disapproval regarding the team's impending move to Sin City.
Not all baseball fans are in favor of the booing of Rob Manfred at the MLB Draft. Many fans are enjoying Manfred pushing through the rule changes that include a pitch clock, bigger bases and the banning of defensive shifts. The rule changes are being credited with making the games quicker and more exciting.
Booing the commissioner has become a staple of drafts in America's major sports.
The booing of NHL commissioner Gary Bettman is a yearly tradition, much of it coming from his moving the game away from northern U.S. and Canadian cities and into the southern U.S. He has come to take the booing as little more than white noise after years of talking over the boos.
NFL commissioner Roger Goodell, who leads the most popular sport in America, is also soundly booed at the NFL Draft. Goodell often smiles at the boos, the exact opposite of Manfred's steely demeanor and grinding tone as he announced the draft selections.
Rob Manfred clearly not enjoying the MLB Draft boos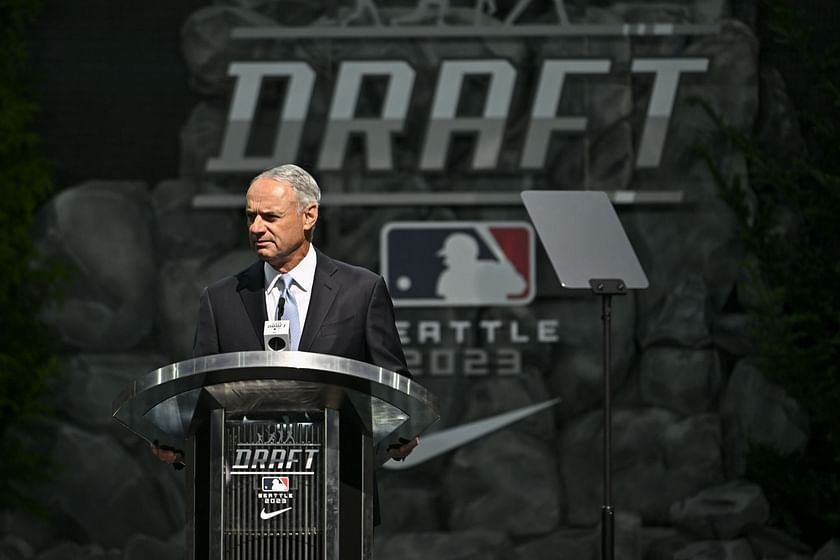 Manfred continued to stride to the podium, announcing each pick as sternly as possible, before quickly retreating off stage. The commissioner made it through a long night in a couple hours, clearly not enjoying the experience.
Only the first and second rounds, as well as compensatory picks, of the draft occurred Sunday. The remainder of the selections will be made over Monday and Tuesday, with Manfred not likely to see the podium again during the event.