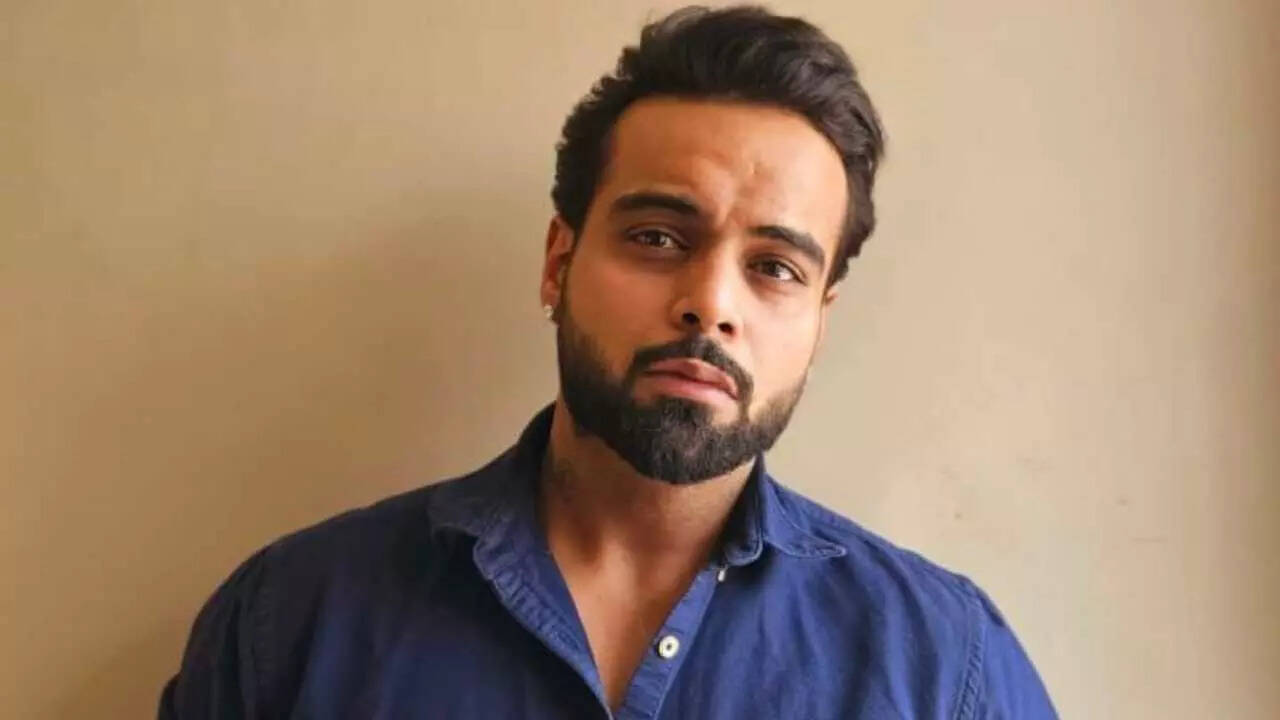 It hasn't been a bed of roses for singer Indeep Bakshi after attaining immense stardom with his two initial big hits, Saturday Saturday and Kala Chashma. With popularity, Indeep also faced severe trolling online, disloyalty, and professional setbacks, which took a toll on his mental health.
In an exclusive conversation with ETimes, Indeep spoke candidly about making a comeback with new song Main Zinda Hu, his long-standing beef with Badshah, his struggle with controversies and desire to collaborate with Honey Singh and Raftaar.
Tell us something about the song Main Zinda Hu. What was your inspiration behind it?
Basically, Main Zinda Hu is not just a song, it's a story of my life. I faced endless trolling, my name was removed from credits for countless songs and there were a lot of ups and downs. It came to a point where people started saying, 'Indeep Bakshi is no more.' It is an answer to all those people who thought I am finished. Everybody will relate to this song. It's like therapy. Every person has gone through their share of dark phases, emotional instability and insecurity. This song is especially for youngsters with urban music which I am sure will connect automatically with people. There's something for everyone.
So, are you confident that it will strike a chord?
Basically, all the people who know me for Saturday Saturday and Kala Chashma, they expect me to make a commercial and dance number. But I have never thought that this particular song should be played in a club or anywhere else. People started connecting to it by listening to my songs. I am still alive for my fans. When I came out of the show called Mujhse Shaadi Karoge, I saw that it was all fake trolling. Fans love you. They want you. They are respecting you. So, I was motivated to make a comeback with this song. And my commercial songs will also start coming from December.
In 2017, you faced a lot of trolling because of song credits related to Badshah. Did it affect you a lot?
When my songs Kala Chashma, Saturday Saturday, 36 Aayengi 36 Jayengi, became hits, why would I disappear all of a sudden at that point? What happens is, people start asking questions. I didn't have any answers. What should I say when all of a sudden my name appeared in Kala Chashma song when it was reused? At that time, it was a new thing for me. I had started questioning myself thinking that people don't like me. It all comes to your mind. Later, I understood that everything was wrong. I was deeply affected by trolling. You can't make a song with such a disturbed state of mind. Making a song is a need. When I am happy, I will make a happy song. What could I have done at that time? I had to give myself a break even if I didn't want to. I was scared that something would happen to me. Such thoughts came to me.
Watch Latest Punjabi Song Official Music Video – 'Cheat' Sung By Indeep Bakshi And Kay J
Do you mean to say you couldn't handle the stardom properly?
If I couldn't handle it properly, I could have said that I had ruined my career because of me, I could have done something that fans have started hating me. But I didn't get a chance to perform at that time. Cases were filed against me. I started getting a lot of hate comments under my songs. I handled it very well but others couldn't handle my stardom. That's why all these things happened. Otherwise, I was doing very well. I was preparing for my songs. I didn't care about the industry or what anybody was doing. I was going in a straight line. I am an architect, I am a professional. Singing was my passion. I made my passion a profession. But there were other people who couldn't see me doing a good job with my songs.
Did you try to find out who these people against you were?
I don't want to find out. If you and I are doing something together and we made something, and that song was already released, then after that, if that song appears in another place, you have to be informed that we are taking this song. But I was not informed. Kala Chashma was already there before it came out in Baar Baar Dekho. This rap, 'Sadkon pe chale jab ladkon ke dilon mein tu aag laga de baby, fire!' was mine. But I wasn't informed at all. I don't know how it happened.
Did you speak to Badshah about this?
I have not been in touch with him. I didn't want to talk to him. After Saturday Saturday was picked up by Dharma Productions in Humpty Sharma Ki Dulhania, we were working on an entire album. But he suddenly left. I don't know where he disappeared. Since that day, I haven't spoken to him. My album was at stake at that time. My career was at stake. People were expecting from me, what more is coming from Indeep Bakshi after this. My fanbase was at peak. They were shouting, where are you? I tried to reach out to him in every way possible. But all I got was news about him, his wedding, his songs being released.
How do you see him as a person?
We have worked together on Saturday Saturday like a family. He was a very different Badshah at that time. Nobody knew about him, who he was or what he did. We used to discuss clothes. We were working in my office, in my studio. Sometimes we used to dub in another studio. We used to make songs on the ground. At that time, he used to tell me about how Honey Singh didn't give him credits for the songs, that he was not releasing his songs. What Badshah accused Honey Singh of wrongdoings, he did exactly the same with me. I made countless calls asking him where the songs are, where the music is, what is happening. You have to have emotions in place when you're making something creatively. If you take out Saturday Saturday from my career, no one will know who Indeep Bakshi is. That's how you make your name. Making a song is a very emotional process. I don't consider it as a business. It is not right to play with someone's emotions the way Badshah did to me.
Badshah had mentioned a few months ago that Honey Singh used to get a blank contract signed and called him a self-centered person. How is your relationship with both of them?
I consider Honey Singh as my idol. I am still a fan of his work. Even in his new song Kaalastar, different writers have contributed to it and their names have been clearly mentioned. So I don't think there's any issue with giving due credit to artists. What happens is people form their own narratives about certain people. I have seen him in such a bad depressive phase that he even openly talked about it that he was feeling scared to do anything. And now that Honey is trying to make a comeback, these people are trying to troll him and saying such things about him in the media. That person can become suicidal. You cannot have double standards. What you say should reflect in your actions also. On one hand you're lauding that guy for coming out of depression, you're the next star and on other hand you're making him suicidal. This is wrong.
How many of Badshah's allegations against Honey Singh do you believe to be true..
Unless I don't see such things happening myself, I don't believe them at all. I haven't seen Honey Singh doing injustice to any artist because you can already see it on your screen. I have heard a lot of rumours, you know. First, it is about some other artist. Then it is said about some other artist. And they are all friends. Sometimes, they say that this guy used to write for him and so on. And the best part is, the ones who claim that this guy has stolen his songs, they have never released those kinds of songs under their names. If Badshah was able to give such songs to Honey Singh, he would have also been able to make it on his own. But he has never made such songs. It is easy to talk. And one can easily identify their style of writing. You will always be able to differentiate. You will find that same essence even if they try to make something different.
Honey Singh is trying to make a comeback but people are not liking the newer version that much as compared to his older version. If this happens with you, can you handle it?
Yes, I can. I just have to come out of this and connect with my fans. They will guide me. During my initial days they also guided me about what they are liking and not liking. Only for them, I used to stay in my room for 6 years. I was working. I made so many songs because I knew that people like my flavour. I can handle all the trolling and my fans will be there to guide me. I have personally seen the hype around Honey Singh's Kaalaster, even among kids. There's always some kind of negative PR that goes on to put artists down when they are trying to stand up on their feet after a bad fall. Once you connect with your fans, you once again start growing with each step. And I am totally ready for it.
If you get a chance to collaborate with Badshah, Honey Singh or Raftaar, will you do it?
Yes, 100 per cent. I don't have any issues with them. With Badshah, I have bitter feelings. So unless that bitterness goes away, I won't be able to make a song with him. Saturday Saturday was a big hit because our feelings were true. There was no tension between us, only passion. If I had to make a song today, I would have 10 things in my mind. Like I will say something then he will say something and it will go on. With Honey and Raftaar, I don't have any problem. Raftaar is my man. He is like a family. I like him so much. He helped me a lot in between when I was working on my album. Honey, I always thought of making songs like he does. There was a certain newness in his music. Saturday Saturday was also a different kind of music. I was inspired by Honey to do this. And I like it this way. So I'll be very happy to collaborate with Honey and Raftaar if any opportunity comes by.
So what measures have to be taken to save yourself from being discredited?
Like I was initially quiet. I would now say don't be quiet. I would like to tell all my writer brothers to have a contract signed stating that I have made this song. And then copyright it yourself. Don't just close your eyes and watch your hard work get stolen online. A little smartness towards securing your work would go a long way.
Are you feeling stable now, mentally and emotionally?
Yes, yes. Totally. I just want to make my own songs. I don't want to get featured with anybody else right now. I am writing my own songs. I have a small team. My studio is ready. All the small things I wanted to polish I have done in 6 years. I want to make my audience listen to the tunes that I have made right from my heart. I don't want to know who has reached where and what they are doing. I have made my own market and I have to take it forward.
Earlier, I was ashamed to talk about it. But when I got some support and people told me that I should be proud of what I am doing, things started getting easy for me. You start doubting yourself. There comes a certain baggage with success and stardom. I can't just sit and complain about why all bad things are happening to me. I have realised that you have taken it in your stride and keep moving forward.
My family didn't know what I was going through. When you become independent, you can't give trouble to your family. But somehow parents get that feeling that something is wrong with you like by looking at your face. They were wondering 'itne shows karne wala ladka aaj architect and construction me kya kar raha hai'. I was totally into music and then suddenly I was out of it. Many times I lied to them about what I was doing just to keep them out of all this. I was telling them that I am working on something and it will take some time.
They would keep telling me that I should keep working on music and do what feels good. But they can't force me to do something. It is you who has to convince yourself to do what you have to do. Then slowly I started getting into music, faced the camera, met people. Now I am feeling a lot better.