Lexar has been a very well-known brand in the storage space with their memory cards. And of late, they've been dishing out quite a few SSDs for the DIY PC Market as well. The Lexar NM760, is one such drive. It's got a price tag of INR 18,900 which very much puts it in the premium tier but does it have the performance to match? That's what we'll be getting into in this review.
Lexar NM760 NVMe SSD Specifications
The Lexar NM760 is a mid-tier NVMe 1.4 SSD. Mid-tier because it does support really high transfer speeds thanks to the Silicon Motion SM2269 controller but because it is DRAM-less, there will be performance drops across sustained workloads. As per the specifications, the Lexar NM760 1 TB SKU claims to have sequential read speeds of up to 5300 MBps and write speeds of up to 4500 MBps. As for IOPS, it is rated for 440K for read and 900K for write operations. Lexar provides a 5-year warranty for the NM760 with an MTBF i.e. Mean Time Before Failure of 1.5 million operating hours.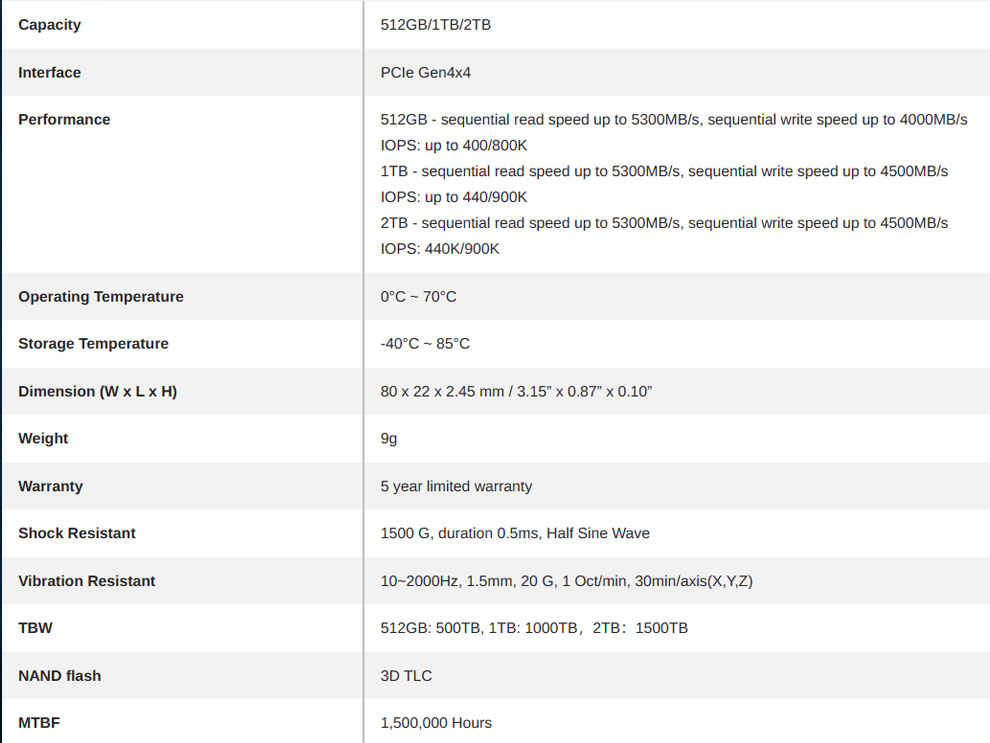 Essentially, you can use the NM760 for upgrading your laptop storage, PC storage or as additional storage within video game consoles such as the Sony PlayStation 5. It is always advisable to install SSDs in video game consoles with a heatsink attached since it does get quite hot in there without any active cooling for the additional storage slot. 
Build Quality
The Lexar NM760 SSD has a pretty standard construction. The label sticker has a metal lining which acts as a heatsink but if you feel that additional cooling is needed, then you can opt for the model which comes with an additional heatsink. The one we received did not come with the optional heatsink.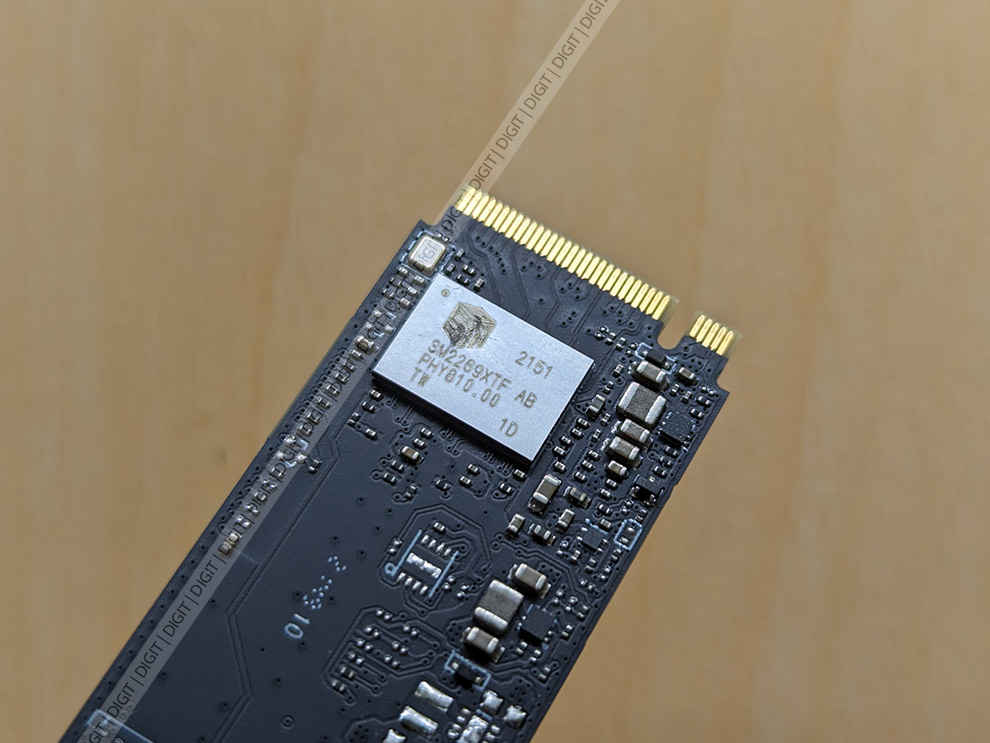 The controller on the NM760 is a Silicon Motion SM2269XTF which is a popular choice for SSDs without a DRAM cache. It is a 4 Channel PCIe Gen 4.0 controller with x4 PCIe lanes and support for NVMe 1.4 protocol. It's built using the TSMC 12nm process node so the power savings should be significant. The peak transfer speeds supported by the SM2269 family is 5100 MB/s as per Silicon Motion's own data sheet but in our tests, it does cross that threshold quite often.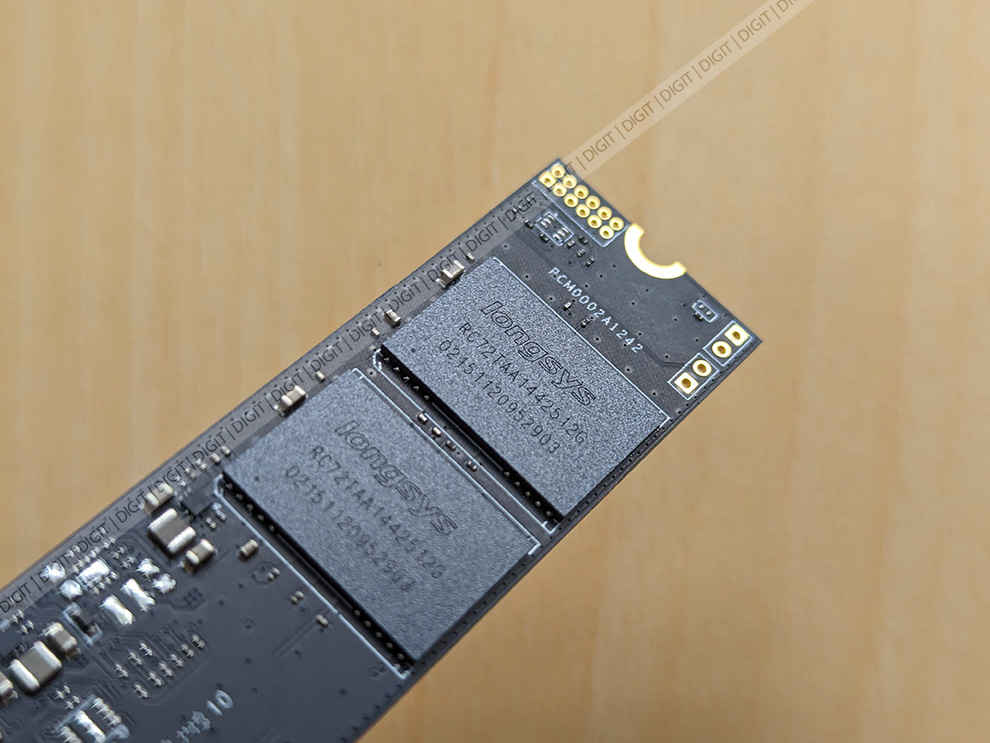 Coming to the NAND, the NM760 has two Longsys RC72TAA1442512G which are 512 GB B47R chips manufactured by Micron. Lexar was owned by Micron and the brand was purchased by Longsys in 2017 so most of the parts will all be Micron. 
Performance
Lexar claims that the NM760 will hit 5300 MBps during read and 4500 MBps during write operations for the 1 TB SKU. Also, since it is a relatively new TLC SSD without a DRAM, there is a very good possibility that they might be using a portion of the storage space as a pseudo Cache. To figure this out, we started filling up the drive and running speed tests at different points of the test. After the first 100 GB that was written onto the SSD, the NM760 continued to run at its advertised speeds but as we crossed 200 GB, we noticed a drop in write speeds to around 2500 MBps from 4500 MBps. And as we crossed 700 GB, the speed further dropped to around 1000-1350 MBps. So the NM760 is most certainly utilising a portion of the NAND as a pseudo cache. This is a very good result considering that the typical shortcomings of a DRAM-less design is being compensated in this manner.
In Crystal Disk Mark, the Lexar NM760 scored 5304 MBps during read and 4202 MBps during write operation. This is considering that the drive is completely empty and therefore, has the full pseudo Cache available. 4K random latency times is about 0.19 milliseconds and 0.23 milliseconds on read and write operations. This is a little on the higher side but then again, we're looking at a DRAM-less SSD here. 
In real world benchmarks, we used Final Fantasy XIV's load time simulator and got a little over 13 seconds in most of our runs. Final Fantasy XIV is notorious for really long level load times and quite a lot of top-end SSDs top off at 7-9 seconds. So 13 is a little high but still reasonable.
Verdict
For a DRAM-less design, the NM760 does offer really good performance thanks to the prowess of the SM2269XTF controller. That being said, we didn't find the Lexar NM760 available on any of the popular ecommerce sites but there is one mention of the 1 TB SKU selling at INR 18,900. This is very high for a DRAM-less SSD and goes up against the likes of the Seagate FireCuda 530 and the WD Black SN850X which are both selling for much cheaper and use a DRAM configuration. We would say that the NM760, if priced around INR 7300-8000 for the 1 TB SKU would have been a better value proposition and it would be a competitive option to popular SSDs such as the Crucial P3 Plus or the WD SN770 which also offer similar read and write speeds.