Indonesian squad Morph GPX was the top performer on Day 1 of the PMGC Group Red, coming first with 70 points and 47 eliminations. NS RedForce got two Chicken Dinners and acquired the second rank with 64 points. Nigma Galaxy performed consistently to grab third position with 63 points in six matches on Day 1.
Six To Eight (STE) played impressively throughout the day and managed to collect 60 points at an average of 10 per game. Duksan (50) and Next Ruya (37) are fifth and sixth spots, respectively. NASR, Konina Power, and FaZe Clan saw a horrendous Day 1, getting only 17, 14, and 12 points, respectively.
---
" class="promoted-img" loading="lazy" width="1440″ height="220″ alt="fortnite-promotional-banner" />
PMGC 2023 Group Red Day 1 overall scoreboard and overview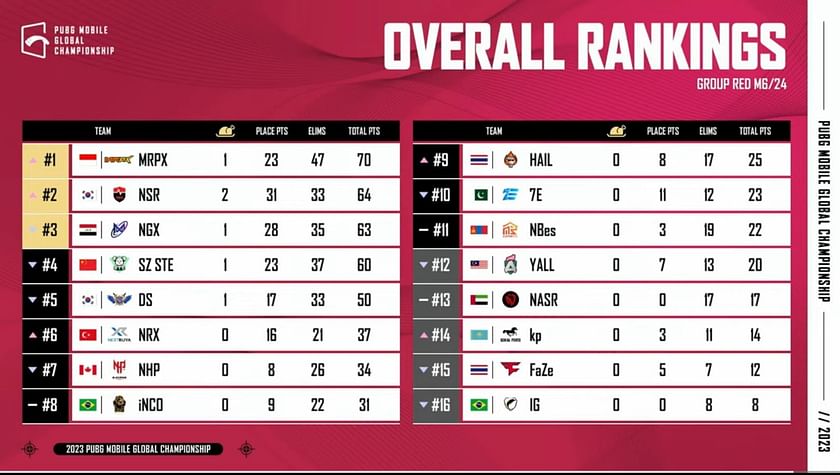 Match 1 – Sanhok
The first game's zone shrank over the Pai Nan area of Sanhok, where NS RedForce presented a terrific performance to grab a 21-point victory. Nigma Galaxy and Duksan collected 12 points. Next Ruya saw an impressive start to their campaign and took nine points.
Match 2 – Erangel
Duksan emerged victorious with 21 points in this second game after fighting spectacularly in the last circle. Nigma Galaxy was impressive in this match, too, achieving 16 points. INCO Gaming and STE managed to claim 10 points each. FaZe, Yoodo, and Konina Power were knocked out with a single point each.
Match 3 – Erangel
Maintaining their pace, Nigma Galaxy conquered the third encounter with 16 points. Koops, a member of this group, was the star player with three kills. N Hyper from North America accumulated 15 points, while STE registered 14 important points on the leaderboard.
Match 4 – Erangel
China's STE acquired their first Chicken Dinner of the PMGC in this fourth match with 18 points. Yoodo Alliance got 14 points, while Morph scored 12. NS RedForce and Nigma collected 10 and 9 points, respectively.
Match 5 – Miramar
Morph, a team from Indonesia, clinched this fifth battle of the PMGC Group Red with 20 points. Nigma Galaxy displayed admirable gameplay and garnered 13 points. Hail and Duksan presented some resistance, scoring 10 points each.
Match 6 – Miramar
NS RedForce took an 18-point victory in the last game on Day 1. Morph delivered another fantastic performance, adding 20 points to their tally. Next Ruya, too, played brilliantly and collected 11 points in this game.
Edited by Soumyadyuti Ghosh