Former cricketers Shaun Pollock and Michael Vaughan have weighed in on the Rajasthan Royals' and Jos Buttler's timid approach during their 10-run loss to the Lucknow Super Giants while chasing a modest 154. Vaughan was surprised by Buttler's slow scoring rate and felt that the Royals should have gone harder earlier.
After a disciplined bowling performance to restrict the Super Giants to 154, the Royals fell agonizingly short of the target. Despite an opening stand of 87 in 11.1 overs from Buttler and Yashasvi Jaiswal, the remaining batters failed to kick on when it mattered, leaving too much to do in the end.
Speaking on Cricbuzz live, Vaughan opined that it was very much unlike the England batter to score 40 off 41 balls and observed how few deliveries Ravichandran Ashwin and Dhruv Jurel got to face.
"Rajasthan should have won. I don't think they went hard enough. Jos Buttler scoring 40 off 41, that's very unlike Jos Buttler. Then you started to see Dhruv Jurel getting out first ball and he nearly hits that six which would have made it interesting. Ashwin only came out to face a couple of balls. I think they could have gone harder sooner and it would have been a better chase. It was almost if they were relying on one of the top two to see them through to 18 and 19 and hoping for a cameo."
While Pollock admitted that the surface wasn't easy to bat on, he praised the Super Giants' bowlers for knowing the lengths to bowl.
"The surprising part for me was that there must have been communication in that dressing room that people coming to the crease will struggle with regards to getting the pace of the surface, and being able to whack it. LSG were knowing the lengths and were whacking it into the surface. The odd one was holding on and the odd one was skidding through."
After their opening stand of 82, the Super Giants also struggled as their number three and four perished for single-figure scores. Nicholas Pooran and Marcus Stoinis combined to add 45 as they huffed and puffed to 154.
"The strike rate wasn't where it needed to be" – Shaun Pollock on Jos Buttler and Yashasvi Jaiswal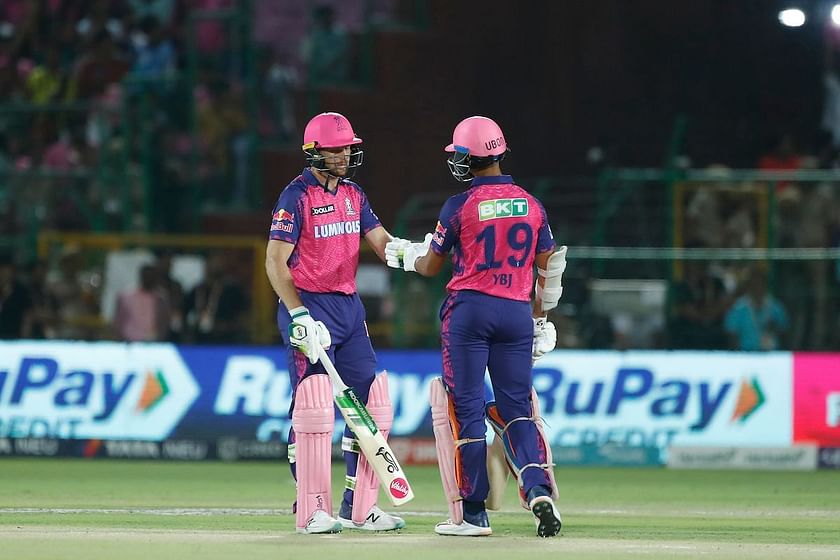 Elaborating more on the Royals' performances, Pollock felt the openers needed to make the most of the powerplay overs to allow the other batters to get used to the tricky surface. The 49-year-old added:
"In those circumstances, you want a big powerplay, because you get ahead of the rate and then if you do lose a wicket or two, the guys coming in have actually got those three or four deliveries to just get themselves in. Although they didn't lose any wickets, they weren't ahead of the run rate. At one stage, Jaiswal gets out and he's got 44 off 45. At that stage, Buttler had 35 off 35. The strike rate wasn't where it needed to be from the two of them. Someone there had to pull the trigger and they didn't do so."
Despite their loss, the Royals have retained their top spot in the points table, while Lucknow remain second.