The UFC is set to make a return in Salt Lake City, Utah, hosting its next Pay-Per-View (PPV) event at The Delta Center on July 29, 2023.
UFC 291 will be headlined by a rematch between Dustin Poirier and Justin Gaethje with the vacant 'BMF' title on the line. The fight card is packed with top-tier talent, including stars like Alex Pereira, Tony Ferguson, Jan Blachowicz, and Kevin Holland to name a few.
What truly sets this event apart is the groundbreaking broadcast technology. MMA fans are in for a treat as the fights will be showcased in stunning 8k resolution on a massive 65-foot LED dome at the Cosm Experience Center in Salt Lake City.
Recently, a glimpse of the dome's footage went viral on social media, captivating fans with the breathtaking quality of the broadcast:
One fan wrote:
"It's such smooth that fighters look like video game characters."
Another wrote:
"I'm confused. What in the world is this? Looks awesome though!"
Another fan slammed the dreaded judging at UFC events:
"This is how judges should watch fights."
Check out some more reactions below:
"This looks better than actually going to the fight."
"So this is what money feels like."
"Wait I don't need to stare at a camera man head ??!"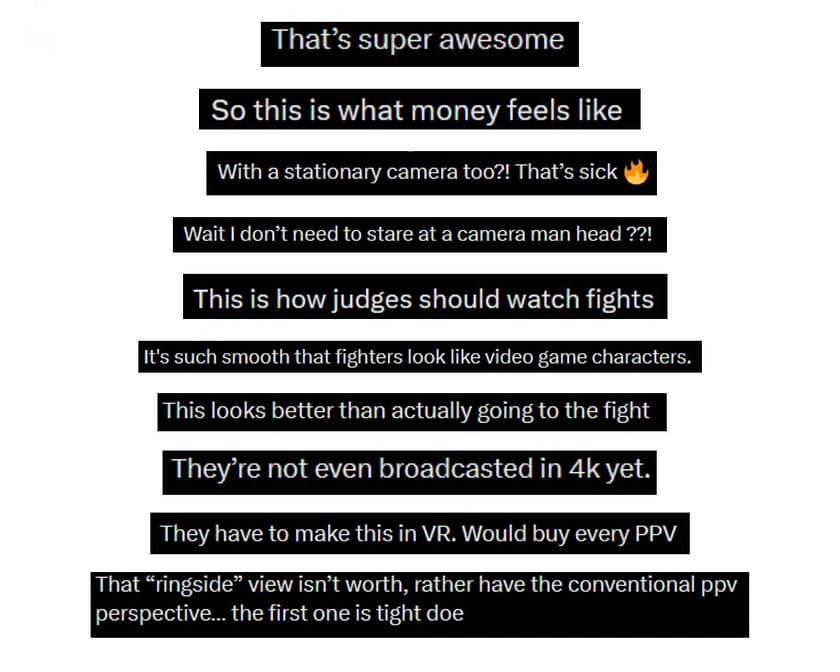 ---
Justin Gaethje claims his rematch against Dustin Poirier at UFC 291 is "the best show on Earth"
Justin Gaethje is known for his explosive and thrilling fighting style and has built a reputation as one of the most entertaining fighters in the UFC. With seven Fight of the Night bonuses under his belt, he consistently delivers awe-inspiring performances every time he steps into the octagon.
'The Highlight' is looking forward to putting on a spectacular show against Dustin Poirier this weekend. During their promotion for the upcoming bout on ESPN's 'First Take,' Gaethje assured fans that they can expect an even more remarkable display than the boxing event on the same night featuring Errol Spence Jr. vs. Terence Crawford:
"You guys are in for the best show on earth. Best live show on Earth. There's a boxing match [Crawford vs. Spence] Saturday night, but you'd be a fool to miss this fight and watch that. This [UFC 291] is where it's at."
Check out Gaethje's comments below: