Jannik Sinner declared that his 2023 ATP Finals win against Novak Djokovic is one of his 'top' career achievements.
On Tuesday, November 14, Sinner stunned Djokovic in their round-robin match at the ATP Finals in Turin by edging him out 7-5, 6-7 (5), 7-6 (2). Doing so, the Italian registered his first-ever win over the Serb after three previous failed attempts.
This is also Jannik Sinner's second win over a World No. 1. Earlier this year, he defeated then-World No. 1 Carlos Alcaraz in the semifinal of the Miami Open.
The 22-year-old is now on a six-match winning streak against top-10 opponents, and has won a total of 10 such matches so far in 2023. It is worth noting that prior to this season, Sinner had just nine wins against top-10 players under his belt.
Following his victory over the Serb, Jannik Sinner shared his feelings about his remarkable ascent.
"It's part of the process. I feel that I'm a little more confident in certain moments in a match," the Italian said in his on-court interview. "I think I was really brave and intelligent in important moments, especially in the third set," he added.
Staying humble in victory, Sinner noted that he still has a lot to learn. He pointed at the errors made during the second-set tiebreak.
"Then, you know, I guess I still have to learn many things. Like, in the tie break in the second set, obviously he played better than me. I missed a couple of first serves, and these are the key moments," he added.
With the win, Jannik Sinner snapped Novak Djokovic's 19-match winning streak, which he held since his triumph in Cincinnati. The Italian called beating the 24-time Grand Slam champion in front his home crowd a "top" achievement.
"It means a lot to me. I don't know where exactly (to place the win) but when you win against the World No. 1 and he won 24 Grand Slams, it's obviously in the top-top," Sinner said.
The World No. 4 also acknowledged Novak Djokovic's rich vein of form in the match.
"I felt like we both were serving really, really well. So, there were not so many exchanges, but when exchanges were played, we both played really well. At the end, it was a very high-level match," he said. "It was a very tactical match and I managed to win, so I am very happy."
---
Jannik Sinner to take on Holger Rune, Novak Djokovic to face Hubert Hurkacz at the 2023 ATP Finals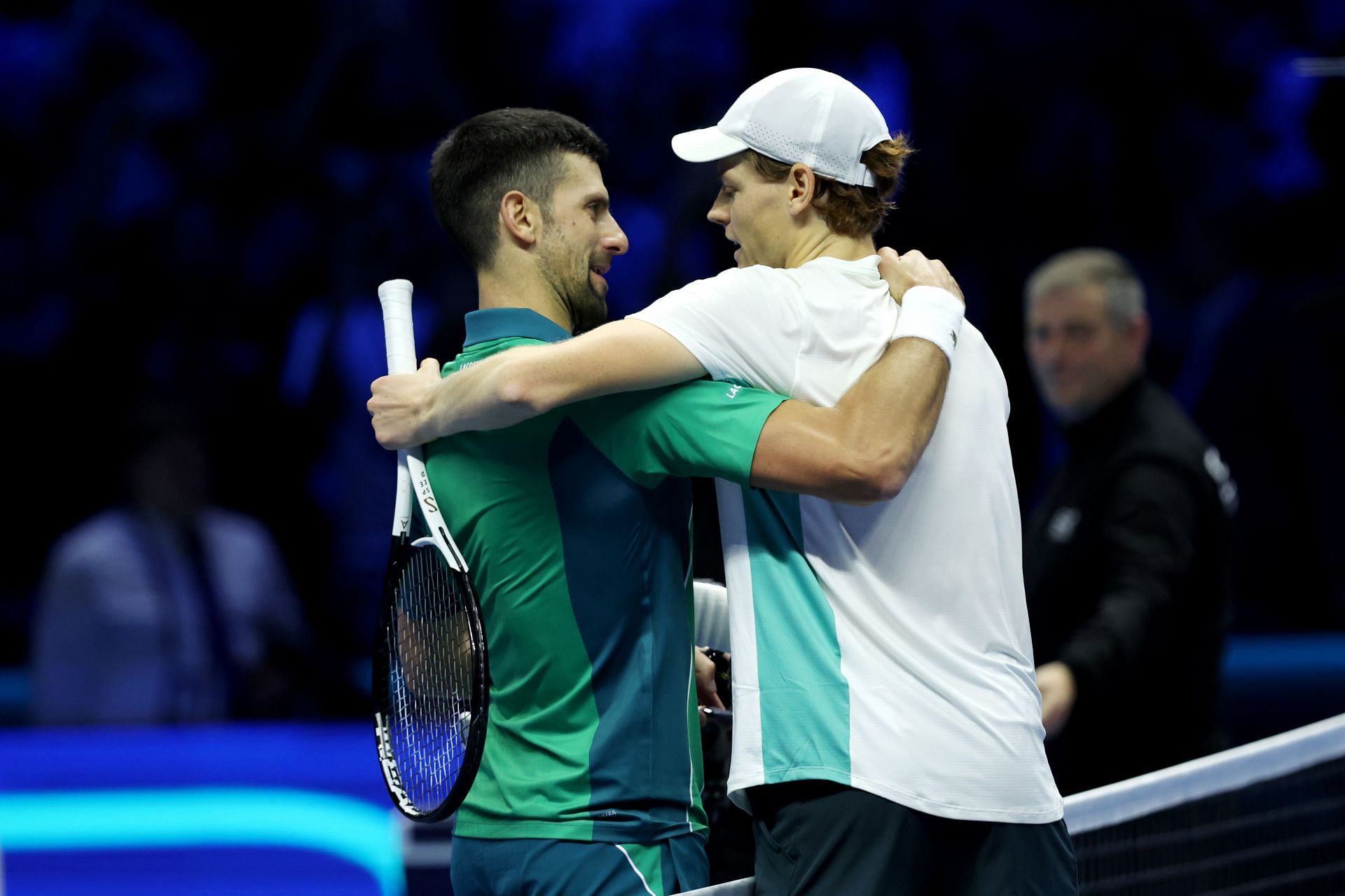 While Jannik Sinner has emerged as the leader of the Green Group with his wins over Stefanos Tsitsipas and Novak Djokovic, the Italian has yet to book his spot in the semifinals of the ATP Finals.
To ensure his berth in the final four, the 22-year-old will next take on Holger Rune on Thursday, November 16, in what will be their final round-robin match.
Rune has registered one win and one loss so far. He lost his opener to Djokovic 7-6 (4), 6-7 (1), 6-3. He took on Stefanos Tsitsipas in his second match on November 14, and was awarded the win 2-1 (ret.) after the Greek retired due to a back injury.
Tsitsipas will now be replaced by Hubert Hurkacz, who is the first alternate at the event. The Pole will take on Novak Djokovic in their final round-robin match on Thursday.